John Piskor's Legacy of Support for the Arts and the Gengras Center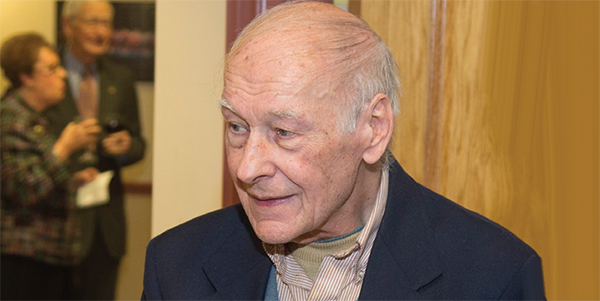 Over the years, art enthusiast John Piskor became part of the canvas of USJ's art community. He was often the first to arrive and among the last to leave Art Gallery exhibition openings. An avid supporter of arts in the region, Piskor made several gifts to the Gallery in memory of his sister, Irene Teresa Piskor-Lewis '56. Along the way, he also developed an interest in the Gengras Center, where a friend's granddaughter attended school.
After Piskor died in October 2013, USJ was surprised to learned of his extraordinary donation - nearly $1.5 million for the Gengras Center and $10,000 for the Art Gallery. "Mr. Piskor's substantial donation enables us to continue our mission and meet the needs of Gengras students," said Michelle L. Lestrud, M.Ed., director of the Gengras Center. "His kindness and commitment to the work we do is evident in his gift. It will impact the lives of students for many years to come."
Ann H. Sievers, director and curator of the Art Gallery, said Piskor was one of the Gallery's "most faithful and passionate supporters." In recent years, he funded two exhibitions.
Retired from Travelers, Piskor was also a longtime member of USJ's Golden Dome Society, remembering the institution in his will. "I truly believe he searched carefully for recipients of his legacy, institutions that might grow in their mission as a result of his estate. He really wanted to make a difference and he believed USJ could help him do just that," said Mary Kate Cox, M.Ed., former interim vice president for Institutional Advancement.
To learn more about how you can become a member of the Golden Dome Society by including the University of Saint Joseph in your will, please contact us. We would be happy to assist you and answer any questions you might have. If you?ve already included USJ in a bequest, please let us know so we have the opportunity to thank you.