Kathleen Magowan '47
Her Unexpected Gift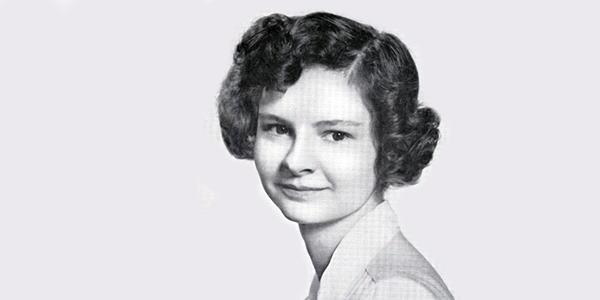 Sitting with Kathleen Magowan '47 for tea and conversation in a large, but simply-decorated home in Simsbury, Conn. — amid hundreds of books, papers, and other keepsakes — neither she nor her visitor would fathom that they were in a multi-million dollar estate. The unassuming woman, who gave no indication of her wealth, had donated a few thousand dollars annually to USJ for the last 40 years, where she graduated in 1947 as a member of the then-college's first Nursing class. Two years after Magowan's death in 2011 at the age of 87, her estate was valued at $6 million and she bestowed more than a half-million dollars to the University.
"I had no idea she would remember the University with such a significant gift," said Diane Burgess, a development director at USJ. Burgess often visited Magowan, both at her home and The McLean Nursing Home, where they talked over tea about her college days and other life happenings. She said Magowan did not know her portfolio was so substantial. Burgess had only suggested that Magowan establish a legacy for herself through an endowed scholarship, but Magowan was not certain she had the assets to do so. Over several visits, the two became friends, and Burgess looked forward to visiting Magowan.
"She was a low-key, sweet, compassionate woman," said Burgess. "I think I got more out of those visits than she did."
Magowan, who never married and had no children, was predeceased by her twin brother, Robert, who worked for Prudential Insurance and managed his sister's investments. They were the children of Wilhelmina and William Magowan, who had been chief financial officer for Ensign Bickford. After their father's death, Magowan's brother assumed responsibility for the family's finances.
Attorneys said Magowan was unaware of the full value of her assets. She identified which organizations would be beneficiaries of her estate, which ultimately distributed more than $5 million to 15 charities, as well as relatives and neighbors. It took attorneys two years to fully value Magowan's estate in its entirety.
While Magowan was not a huge philanthropist throughout her life, she was a consistent supporter of USJ. After graduating with a Nursing degree, Magowan worked as a pediatric nurse at St. Francis Hospital and Medical Center in Hartford. She later became an elementary school teacher and taught for 35 years in the Simsbury, Conn., school district. In addition to USJ, Magowan left money to the Simsbury Public Schools, St. Mary's Church, and The McLean Nursing Home.
Magowan's attorney, David Bondanza (of Simsbury's Hassett & George, PC), reportedly said Magowan "left a legacy to anyone who touched her heart." He told Burgess that Magowan's gift to the University was at the top of her handwritten list of beneficiaries. Burgess said Magowan always spoke fondly of her college years and was grateful for the education she received.
Kathleen Magowan's generous gift has been used to support the new CARE building at the Gengras Center, and renovations to the nursing lab. In addition, an endowed scholarship was established in Magowan's name and the nursing lab holds a plaque in her memory. If you would like to learn more about supporting USJ with a bequest, please contact us. We would be happy to assist you and answer any questions you might have.