Jeanne Marie Hunciker '45
A Legacy of Appreciation and Education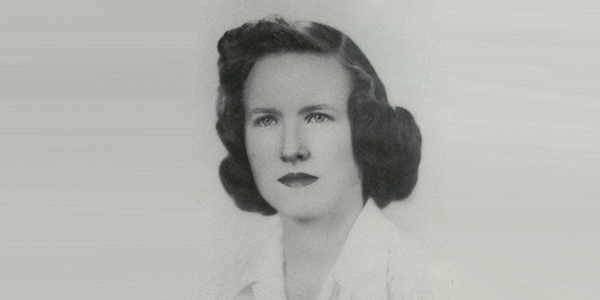 Throughout her life, Jeanne Marie Hunciker '45 supported the University of Saint Joseph in noteworthy and enduring ways. It was, in large measure, a response to the significant influence that Saint Joseph College had on her life - especially her love of teaching.
Hunciker, who passed away a year ago, earned a Bachelor's Degree in History from Saint Joseph College in 1945. She later earned a Master's Degree from Trinity College, and Administrative Certification from the University of Hartford.
A devout Catholic, she believed deeply in the Mercy Mission. She adored Saint Joe's, for what it meant in her life, and for the impact it had on succeeding generations of graduates.
Her intellectual gifts were intertwined with civic involvement and professional accomplishments that distinguished her among educators in this region, and amidst those whose high standards and ideals were exemplary.
A well-respected and admired teacher and administrator in the Hartford Public Schools for more than 40 years, Hunciker is recognized in Who's Who of American Women. She taught at Bacon Academy until 1950, and then was appointed to the History Department at Hartford Public High School. In 1972 she became District Social Studies Chairperson for Hartford Public High School and Quirk Middle School and was later appointed Social Studies Chairperson for the three high schools in Hartford.
Three special friendships, established at Saint Joseph and nurtured afterwards, led to travels and time spent on Block Island, across Europe and elsewhere. Helen M. Lynch '41, Lois M. Colli '45 and Jeanne Hunciker shared a middle initial, and wonderful times. They were joined, through the years, by Lucy Zocco, a former student of Jeanne's. Ms. Zocco fondly recalls Jeanne's impressive Dalton figurine collection gathered from various travels.
Ms. Zocco also reflects on Jeanne's devotion to the University of Saint Joseph. "Jeanne always came back for events, because she felt honored to be invited. She was extremely appreciative of the education, and the educators, at Saint Joseph," her friend explained. "Her focus was always how she could make the world a better place by influencing children's lives."
Ms. Hunciker's bequest is a reflection of that appreciation and philosophy. A member of the Golden Dome Society and a consistent donor throughout the years, her bequest will help succeeding generations of USJ students to extend their own impact and influence for years to come. The expansion of Lourdes Hall, which will house the Physician Assistant program, is among the initiatives that will be supported by her gift and a space within the building will be named in her memory.
Hers was a lifetime of civic involvement, determined leadership, and devoted service. Organizations including the Mercyknoll Board of Trustees and the Connecticut Council on Economic Education were among many that benefitted from her remarkable dedication.
Our abiding gratitude to Jeanne Marie Hunciker, for remembering the University of Saint Joseph with such benevolence. Her gift will continue to resonate as her memory is honored. Jean's legacy, a lifetime passion for education and civic life, will forever echo through individual lives and the life of the entire USJ Community.
Estate planning provides individuals with an opportunity to support the University of Saint Joseph while meeting specific personal and financial goals. If you would like further information about how to make a bequest, please contact us. We would be happy to assist you and answer any questions you might have.