Meredith Harris '78
Her Steadfast Support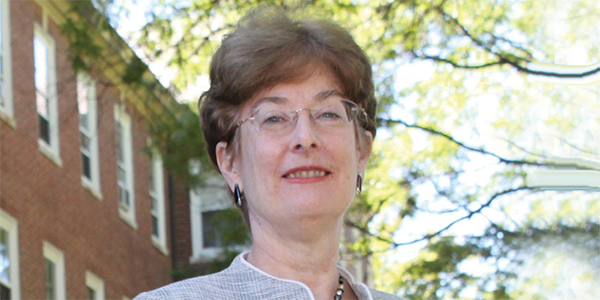 Gazing across the tree-lined quadrangle, Meredith Harris '78 gestured toward the red-brick building. "Mercy Hall was home before the University expanded, converting it to classrooms and offices," she recalled. "My room was actually the former Chapel."
Harris earned her bachelor's degree at USJ in Mathematics and Business, and then took a job in Hartford within the local insurance industry, following in her father's footsteps. As she rose in the ranks as an actuary, ultimately securing a position as vice president at United Healthcare, there were no female executives in similar jobs as role models. "Eventually, women held senior spots and we felt like a community," she said, "much like the community of women at Saint Joe's."
As a scholarship recipient, Harris felt a desire to give back by supporting women facing the same need. In the summer following her graduation, she made her first donation - a gift she has continued for 36 consecutive years.
"I never thought about skipping a year. Giving back to the school always seemed a priority," she said. "Saint Joe's instilled confidence in me. I believed then, as I do now, that a woman can do anything. These young women should know they have every option. Anything they can envision, they can become."
Recently retired, Harris enjoys traveling across the country and across the globe. Her camera in tow, fine art photography is her new passion. She also enjoys attending campus events. "The University remains a true community. We share an important common experience and really support one another."
If you would like to learn more about how you can support the next generation of USJ students, please contact us. We would be happy to discuss giving opportunities.